Disc Golf spin dyeing made easy with this universal jig attachment for record players.
Start Your Revolution!
$20.00  $14.00
Over 214 Dyers Use This Jig!





Say Good-Bye to Spin-Dye Woes
Dave's Spin Dye Jig Rig is one of the lowest priced AND versatile spin dye rigs available on the market. The adjustable riser blocks allow for the best fit for any disc shape, top facing or bottom. It is also one of the few rigs designed with built in offset spin capabilities. If these feature's don't spin you, nothing will.
If you were to call the Spin Dye Jig Rig cheap, by goodness you'd be right. That's no insult when we are able to offer such a high quality, multi-functioning spin dye rig at the lowest cost on the market.
The universal design of the Spin Dye Jig Rig allows for use with any record player or turntable without modifications.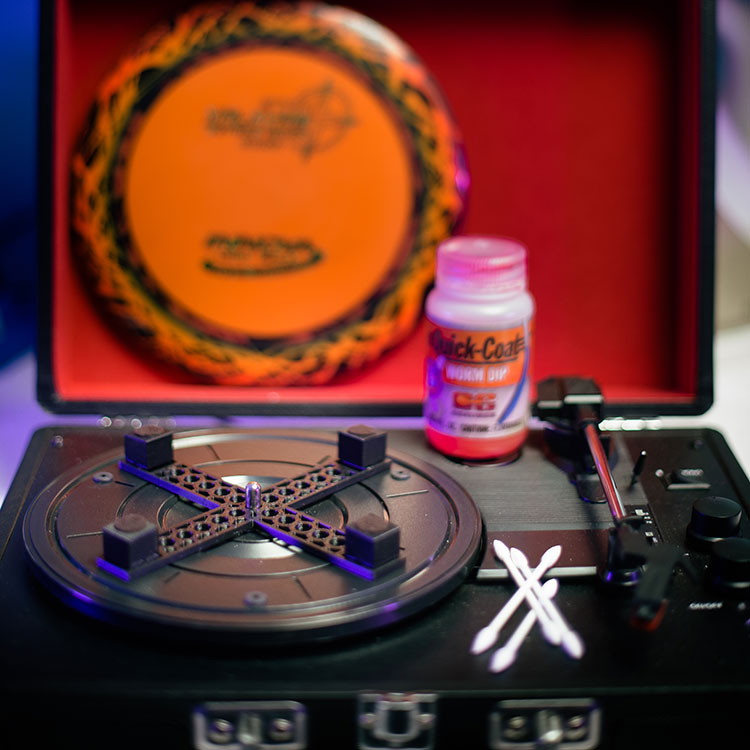 This versatility extends to allowing the jig to fit any PDGA approved disc for both top and bottom spinning capabilities only requiring minor adjustments to the riser blocks.
Off Set the Complications
The multiple off-center holes allow for quick adjustments, making consistent offset spins a breeze.
Free Spin Dye Jig Rig Tutorial!
Learn how to use all the features of the Spin Dye Jig Rig and useful spin dye tips in this comprehensive video
Hole Size
Spindle Hole ID: 7.2mm
Dimensions
Jig Diameter: 6.25in
Adjustability
6 hole locations